Libertarians can commemorate Independence Day by joining protesters in cities across America who will gather on July 4, to demand that the U.S. government adhere to its constitutionally dictated limits demanded by the Fourth Amendment.
Two of these events will be held in Raleigh, starting at 10 a.m. at the N.C. State Capitol, 1 Edenton St., and in Charlotte, starting at 9:00 a.m. at the corner of Trade and Tryon in Uptown Charlotte.
The rallies are being organized by Restore the Fourth, a grassroots, nonpartisan, nonviolent movement spurred by revelations made by whistle blower Edward Snowden of the government's widespread practice of spying on Americans without a warrant.
The July 4 demonstrations seek to demand an end to the unconstitutional surveillance methods employed by the U.S. government.
Libertarian National Committee Executive Director Carla Howell will speak at 12:30 p.m.. at the Washington, D.C., rally being held at McPherson Square from 12:00 noon until 2:00 p.m. Libertarian candidate for Virginia House of Delegates District 53, Anthony Tellez, will speak at 1:15 p.m.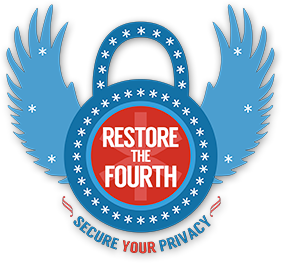 Add your reaction
Share
---
The Carolina Journal's Sara Burrows reports that the Fourth Circuit U.S. Court of Appeals has reversed a trial judge's decision to dismiss Charlotte-area "paleo diet" blogger Steve Cooksey's free speech case.
The N.C. Board of Dietetics/Nutrition tried to censor Cooksey's blog Diabetics Warrior because they alleged he was giving dietary advise without a license when he wrote about the diet of cavemen.
Read more at Carolina Journal Online.
Watch a video on the case by the Institute for Justice.
Add your reaction
Share
---
The Libertarian Party applauds the U.S. Supreme Court's decision today to strike the Defense of Marriage Act, a federal law that discriminates against non-heterosexual marriages.
The Libertarian Party has supported marriage equality since its founding in 1971.
"The idea that people need permission from government in order to get married is inconsistent with the principles of secular government," said J.J. Summerell, North Carolina Libertarian Party chair.
"Last time I checked, marriage was a sacrament.  The decision on who can or who cannot marry should be left to individuals and religious institutions."
"This is a landmark victory for personal freedom," said Geoffrey J. Neale, Libertarian National Committee chair.
"The Democrats and Republicans who have advanced, defended, and let stand government intrusion into the private contracts and choices of consenting adults will be remembered for their inhumanity on this issue."
DOMA was pushed through by a GOP-led Congress and signed by a Democratic president.
Read more at LP.org
Add your reaction
Share
---